My custom magnetic snaps are on their way, and I will finally have them in my hands next week!!! I am so excited to finish assembling my pre-orders and get them out to all my fans!
I am so super excited! So excited, that I will be hosting an official Snappee Turtle Grand Opening Giveaway!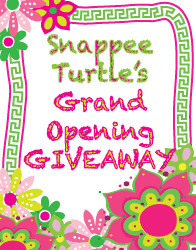 I will be giving away one fabric covered
interchangeable headband
of the winner's choice along with two interchangeable flower Snappee's
(up to a $37 dollar value + free shipping)
. One of the Snappee's will be the winner's choice of one of the
five petal satin flowers
, and I need your help choosing what other flower Snappee to give away.
Which Snappee would you like to receive if you won the giveaway? Head on over to the
Snappee Turtle Facebook Fan Page
and vote for your favorite Snappee flower in the poll! The Snappee flower with the most votes will be the one given away!
The official rules of the giveaway will be announced on Tuesday, August 30th, but you can get a head start by liking the
Snappee Turtle Facebook Fan Page
, because that will be a requirement to enter. There will also be other ways to submit multiple entries, so stay tuned. While you are at our Facebook page, don't forget to vote for your favorite flower Snappee!!
I hope you'll join us for our first giveaway!
Warm wishes,
Eva